ADSL2+
ADSL2+ and its complementary services are one of the most important activities of Shatel Group. With a significant investment on the latest ADSL2+ access equipment and experienced staff and professionals, Shatel now provides users with a wide range of services. Shatel Group now offers ADSL2+ to more than three million home users and organizations and institutions in the form of over 800,000 high-speed Internet services. The quality of the provided services, using state-of-the-art equipment and technologies, and efficient and continuous support of the services have caused the scope of Shatel customers in the field of ADSL2+ to continuously increase and expand to a large group of home users and organizations and Institutions. It is worth mentioning that the geographic distribution of the high-speed Internet services provided by Shatel is such that almost all telecommunication centers in Tehran are under the coverage of Shatel ADSL2 + service. In addition, Shatel Group franchises in different cities and provinces offer these services to different customers throughout the country.
The price of ADSL services and related equipment
Purchasing process at a glance
The purchase of ADSL2+ services is now done online, over telephone or in person. The graph below shows the difference in the time it takes to proceed this process in different ways: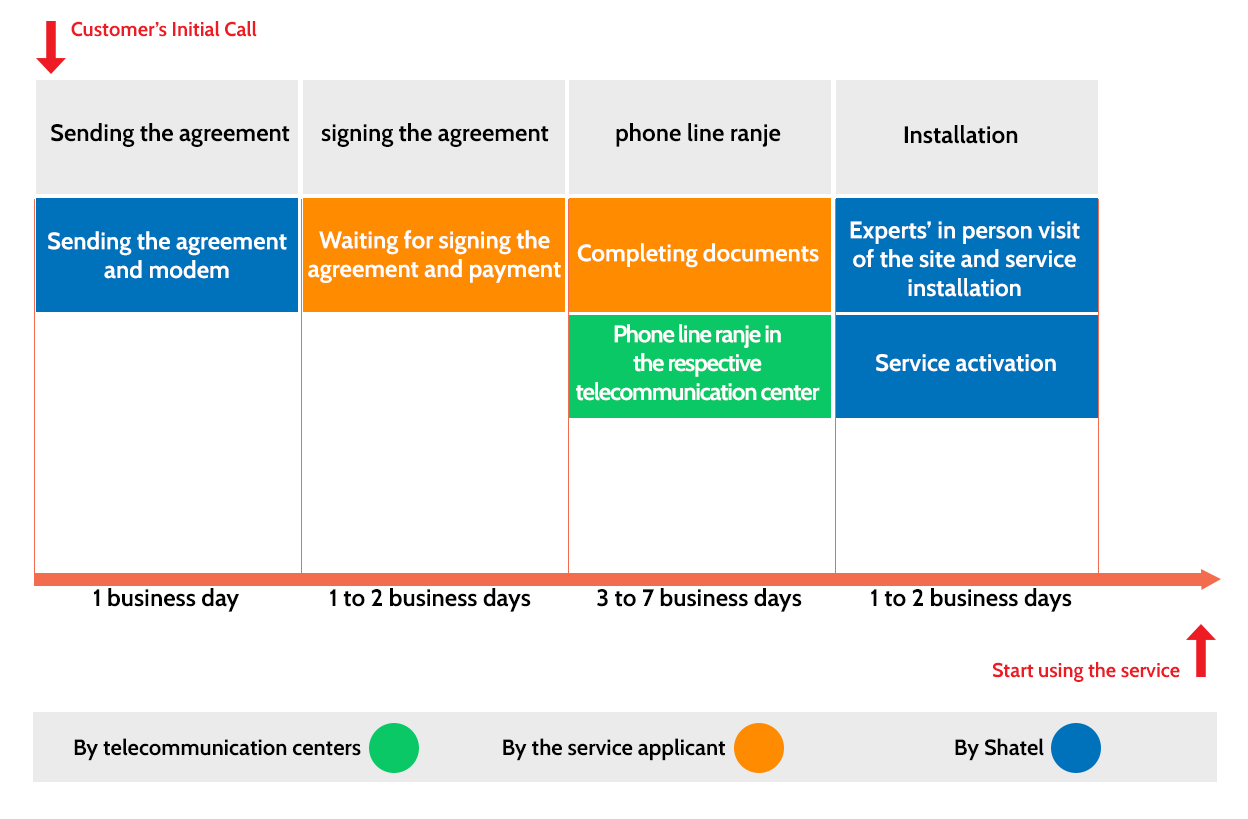 We draw your attention to some points to be taken into consideration throughout the process:
The mentioned time frames are approximate and may vary depending on the day the order is placed (at the beginning or the end of the week).
As you can see, part of the time frame is outside Shatel's scope of authority and can vary depending on the respective telecommunication center.
Customer collaboration in preparation of documents, answering the telephone, and being present for the installation to be done have a significant impact on the duration of the process.
Sometimes there may be interferences in the telephone line after ranje is done, in which case, the issue should be resolved by the telecommunication center after installation.
Terms of use of ADSL2+ services
Digital User Guide for preparing environmental conditions prior to ADSL2+ installation