Special Services for Residential & Business Buildings
Assigning special services to residential & business buildings, in addition to providing an opportunity for quick and high-quality access to Internet services, frees residents of these buildings from the need to wait to get the services and from the regulations of the telecommunications centers.
Special Services for Residential & Business Buildings
VDSL
Host Shatel Masts
One of the most essential facilities in residential and business buildings is a good quality internet connection. However, due to some technological limitations such as poor quality of telephone lines or fiber optic phone lines or other cases, users in residential and business buildings usually experience different challenges to access the internet.
Shatel, as the largest operator of fixed internet service with the greatest number of users in the private sector in the country, offers two successful solutions to provide internet services on Ethernet or copper cables (ADSL / VDSL) to solve the problem in residential and business buildings, and currently tens of thousands of users in these buildings experience high-speed, high-quality Internet access using these solutions.
Most important advantages
Experiencing the exceptional speeds of 20 to 50 Mbps
Constant quality and low volatility of internet service
Best price compared to the quality offered
Benefiting from services available to Shatel users such as 24-hour fast support and sales services and the highest level of access and network quality among all operators in the country
Constant quality not being affected by internet use by other residents
Benefiting from the services offered by Shatel Customer Club
Available services
ADSL2+ high speed internet with a speed of up to 20Mbps
VDSL high speed internet with a speed of up to 50Mbps
Ethernet high speed internet with a speed of up to 50Mbps
Eight-digit landline telephone (VoIP)
Additional services such as watching movies and TV series online on Namava (with free internet usage)
Installation & Activation
The required equipment will be placed in the building free of charge.
There is no charge for installing equipment in the building.
If Ethernet equipment is installed, the cost of the cable will be charged, but as an incentive policy, Shatel will not charge for the surface cabling.
The feasibility and equipment installation process will be completed in less than two weeks after the contract is signed, and from then on, residents can enjoy a high-speed connection to Shatel Internet network.
Comparison of Available Services
To request the service, you can fill out the following form.
One of the most prominent services that can be offered in residential complexes and towers is VDSL (Very high bit-rate DSL). Shatel Company, for the first time in the country is offering this service, which is referred to as a revolution in the provision of Internet services, to tower blocks and apartment complexes using the most advanced equipment and technology. The most important feature of these services is the much broader bandwidth compared to ADSL2 + services, which enables customers to enjoy high-speed services at a speed of 100Mbps. For more information on this technology, we recommend that you read the following text:
Very high-bit-rate Digital Subscriber (VDSL) service is a new way of providing high-speed broadband services that speeds up the provision of services over DSL platform several times. In this service, the download and upload speed can increase by over 10 times more than the ADSL method. Due to the short distance between the provider's center and the recipient of these services in the towers and complexes, it is possible to provide this service with a constant high quality for customers.
These services are firstly received through a DSLAM at each complex and then distributed across users through telephone lines. Afterwards, each subscriber can use the dedicated bandwidth by installing a VDSL modem in place. High bandwidth, low oscillation and constant quality are among the most important features of this service.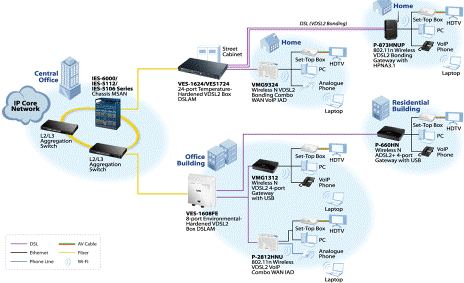 It is worth mentioning that in ADSL2+ services signals with frequencies ranging from 0.14 to 2.2 MHz and in VDSL services signals with frequencies of 2.2 to 12 MHz are used over copper wires. Using this wide range, ensures higher quality and broadband.
Shatel invites buildings with more than 7 floors to install Shatel's telecommunication masts on the roof of the building.
If you are a resident of a building that can host Shatel telecommunication masts, you can, if other residents agree, notify Shatel by completing the form below so that our colleagues can contact you and make the necessary arrangements for technical inspection, negotiation and signing the contract.
The installed equipment is intended only to provide fixed communication services to internet users, and their operation is designed and implemented according to safe and reliable standards (Atomic Energy Organization and Communications Regulatory Authority). So, the installation of these masts will not have any worrying effect on the health or safety of residents. In addition, Shatel will pay a monthly rent in return for the partnership.
Special Services for Residential & Business Buildings Brochure      Online service request form